Vote Now: BTB Destination of the Year Award 2019
by MyBelize.Net | September 3, 2019 8:38 am
The Belize Tourism Board's National Tourism Awards are coming up in October and for the first time, a popular vote will determine which corner of the Jewel is favorite.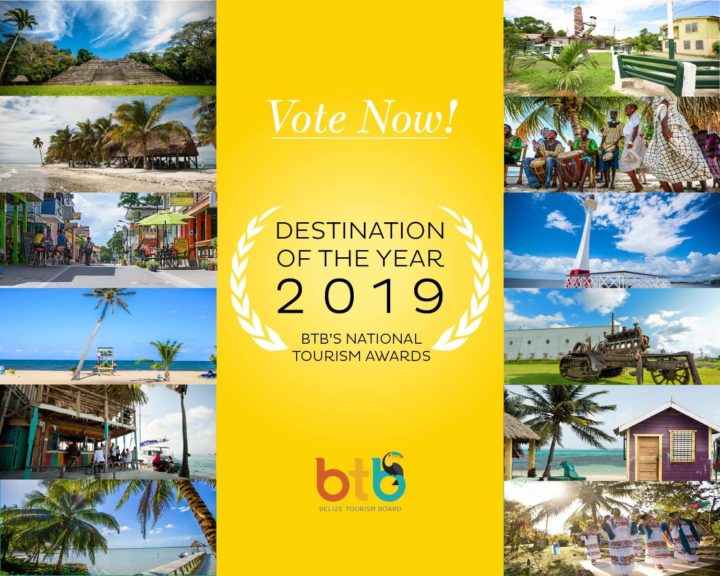 [1]
To say the least, it's a tough choice, but we'll go through the nominees for you:
Corozal is the northernmost town and district and gateway to Mexico, but it carries its own authentic Yucatec Maya and Mestizo culture, as well as East Indian. A day by the beach or visiting Cerros and Santa Rita works out fine.
Caye Caulker is the island of 'Go Slow,' home to picturesque seas and lots of activity on the beach side, in the nightclubs, or wherever you meet it.
Placencia is probably the most popular, positioned between the pristine cayes including Harvest Caye and the nearby preserves and reserves.
Orange Walk is "Sugar City," "Tacos Town" and the gateway to Lamanai and the north.
Belmopan has its own charms – compact, open and a base for seeing much of the eastern and central Cayo District including the Belize Zoo, St. Herman's Cave, ATM, Guanacaste Park and other attractions.
Dangriga is the "Culture Capital" but also the heart of Belize's southern agricultural belt – citrus, bananas and others.
Belize City / Belize Rural is the home of our history – St. John's Cathedral, Government House, the Downtown, Altun Ha, the River Valley, Gales Point and Freetown Sibun.
San Ignacio / Santa Elena is the gateway to the West – Cahal Pech, Caracol, the bustling market and the Mennonite outpost of Spanish Lookout as well.
Hopkins / Sittee River is a Garifuna outpost with a top class beach and grounding for nearby attractions like the Cockscomb Basin Wildlife Sanctuary.
San Pedro really needs no introduction; let's just say it's the closest thing to paradise on earth.
Benque Viejo is the entry to Xunantunich and Guatemala.
Toledo is the home of cacao, the last outposts of the Maya and Punta Gorda (P.G.)
You can vote here[2] once a day until September 26th, so feel free to share the link with friends and family!
Source: Breaking Belize News[3]
Endnotes:
[Image]: https://belizetourismboard.org/programs-events/vote-for-destination-of-the-year_01/
vote here: https://belizetourismboard.org/programs-events/vote-for-destination-of-the-year_01/
Breaking Belize News: https://www.breakingbelizenews.com/2019/09/02/vote-for-destination-of-the-year/
Source URL: https://www.mybelize.net/vote-now-btb-destination-of-the-year-award-2019/
---