The Prime Minister of Belize – Honorable Dean Oliver Barrow
The Hon. Dean O. Barrow was sworn in as the Prime Minister of Belize on Friday, February 8, 2008.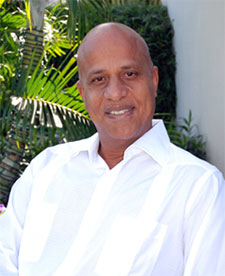 Mr. Barrow was first elected to the House of Representatives at the 1984 general election as the United Democratic Party candidate in the Queen's Square electoral division.  He served as the Minister of Foreign Affairs and Economic Development in the 1984-1989 UDP administration.
Mr. Barrow was re-elected to his Queen's Square House seat in 1989 and 1993.  In the 1993-1998 UDP term in government he was appointed Deputy Prime Minister and Minister of Foreign Affairs and National Security, and Attorney General.
Following the UDP's defeat at the 1998 election, Mr. Barrow, who had retained his seat in the House of Representatives, was elected Leader of the Opposition.   As party leader he was again re-elected as Area Representatives for Queen's Square at the 2003 general election, and increased his party's standing in the House of Representatives.  On Thursday, February 7, 2008, Mr. Barrow led the UDP to office in a landslide general election victory.  In Belize's sixth post-independence election on Thursday, the UDP won 25 of the 31 seats in the House of Representatives.
As Prime Minister, Mr. Barrow is committed to the task of national reconstruction.  He is committed to the quick implementation of his party's reform agenda, providing the right checks and balances, including penalties, and to restoring to the people the rightful authority over their elected officials and public officers that a true democracy dictates.  Speaking at an impromptu "pre-victory rally victory rally" at his party's headquarters on election night, Mr. Barrow vowed that the new government would not stray from the straight and narrow.
The new Prime Minister is additionally committed to the early implementation of a series of other impressive manifesto goals covering a broad range of areas including the economy, the social sector, education, agriculture, and oil and energy.
Mr. Barrow was born in Belize City on March 2, 1951.  He was trained at the University of the West Indies, Cave Hill (LL.B. 1973); Norman Manley Law School, Mona (Certificate of Legal Education, 1975); University of Miami School of Law (L.M., 1981) and the University of Miami (M.A. International Relations).
Personal Profile
The Honorable Dean Oliver Barrow was born March 2, 1951. Mr. Barrow is the leader of the United Democratic Party and the first Black prime minister of Belize since she gained independence on 21st September 1981.
Barrow attended St. Michael's College in Belize and the University Of The West Indies at Cave Hill, Barbados (LL.B. 1973); Norman Manley Law School, Mona, Kingston, Jamaica (Certificate of Legal Education, 1975); University Of Miami Law School (L.M., 1981); University Of Miami (M.A. International Relations). In 1983 Barrow entered electoral politics as a candidate for Belize City Council elections in December 1983, which he won as part of a nine-man slate. He then participated in General Elections December 1984 as a candidate for the Queen's Square electoral division against, Ralph Fonseca. Barrow defeated Fonseca handily and was nominated to Cabinet as Attorney General and Minister of Foreign Affairs.  In the 1989 General Elections, Barrow defeated Thomas Greenwood but his party lost the election.  Barrow continued in his law practice at his firm Barrow & Williams. In 1990, he became Deputy Party Leader to Manuel Esquivel after the death of the Hon. Curl Thompson.
In 1993, Barrow won his third straight general election, over Juliet Soberanis, and returned to Cabinet in the posts he held from the previous administration in addition to Minister of National Security. His detractors called him "Minister of Everything" during this period because he appeared at most major functions on behalf of the UDP government. After the 1998 loss in the General Elections in which he was one of only three representatives who retained a seat for the UDP, Barrow was elevated to Party Leader and Leader of the Opposition, replacing Manuel Esquivel in both positions. Barrow has presided over the smallest Oppositions (3 and 7 respectively) in the House of Representatives since 1974 and ever in the UDP's history. Barrow has won his last two elections by closer margins than his previous elections over attorney Richard "Dickie" Bradley. Barrow was re-elected for the sixth time in 2008 against the PUP's Anthony Sylvester and Ebony Babb of the NRTCP. Barrow, leader of the United Democratic Party (UDP) and a former foreign affairs minister, defeated Said Musa, winning 25 of the 31 seats in the House of Representatives.
His mother is the sister of Barrow's longest political colleague, the Hon. Michael Finnegan. Barrow has four children. The oldest is rapper Jamal Shyne Barrow born November 8 1978. Shyne was born out of wedlock, and is currently serving a prison sentence in the United States of America. Shyne Will Be Released on October 8, 2009. His second son is a promising entrepreneur as the owner of Quick Stop Personal Finance. His daughter Deanne practices law out of her mother's [Barrow's first wife Lois Young] firm.  Deanne Michelle Barrow of Belize City has graduated from Cambridge University in England with honors.  She received a first class in Part I of the Tripos exam and an upper second in Part II. Cambridge University conferred on her the Bachelor of Arts degree at graduation ceremonies on June 29, 2007. She also holds a B.Sc. in Chemical Engineering with high honor from the Georgia Institute of Technology in the United States, coming second overall at Georgia Tech in 2004.
Barrow married for a second time February 7, 2009 exactly one year after winning the elections that made him Prime Minister in Savannah, Georgia to his long-time girlfriend Kim Simplis.  The thirty-some, founder and director of Lifeline Foundation, Simplis-Barrow holds two Master's Degrees, one in International Business and the other in Hospitality Management. After 10 years of management experience working in the tourism and hospitality industries, she now dedicates most of her time to helping abused, abandoned and neglected children in Belize, through her many charity works. Lifeline Foundation" is a philanthropic charity trust geared towards raising money to benefit children at schools and orphanages who are in dire need of assistance in the form of feeding programs, medical care, and educational materials. Lifeline Foundation works in Belize and focuses on long-term development and prevention work to help children, their families and our communities to be self-sufficient. Simpliss & Barrow have one daughter, Salima.
Barrow, a senior counsel is also considered one of Belize's more successful attorneys and has appeared in several high profile cases. He began his legal work in the law firm of his uncle Dean Lindo in 1973 and became a partner in 1977. Among his more controversial clients was Lord Ashcroft and the businesses he is in charge of, particularly the Belize Bank and Belize Telemedia Limited, formerly Belize Telecommunications Limited.