Timeline of Events leading up to the Battle of St. George's Caye
March 22, 1796 – Local Magistrates send communication to Rear Admiral William Parker in Jamaica requesting assistance be given to the settlement in view of warlike preparations of the Spaniards in the neighborhood.
April 26, 1796 – Admiral Parker acknowledges their concern and asks that they make specific requests as to ways he might assist in the preservation of their property.
December 1796 – Colonel Barrow is commissioned by Governor of Jamaica Lord Balcares, as Superintendent and in the event of hostilities as Commander in Chief of Defense of the Settlers of the Bay of Honduras."
December 31, 1796 – Colonel Barrow arrives in the Settlement.
January 17, 1797 – Colonel Barrow reported to Lord Balcarres that the hostilities had already commenced since the Spaniards had already captured two schooners and a sloop. A captured Spanish officer had told him that war had been declared on October, 7th.  He also Reports on the defense measures and on a lack of provisions in the settlement.
February 11, 1797 – The Public Meeting passes a resolution that the "whole effective force of the Settlement should be immediately brought forward" and that martial law be declared.
May 1, 1797 – Letter sent to Colonel Barrow signed by 42 inhabitants suggests that far been unable to assist.
June 1, 1797 – The Public Meeting puts the following question to a vote:
"Whether this meeting do consider it most for the interest of the community at large to continue to carry on defensive operations for keeping possession of the Settlement, or to determine upon a general evacuation through the medium of His Majesty's Superintendant and Captain Dundass so soon as the same can be carried into execution."
The resulting vote:
For Evacuation —– 51
Against It —– 65
Margin against evacuation —- 14
June 3, 1797 – Letter sent to Colonel Barrow signed by 46 inhabitants lament the great time they have had to wait for Lord Balcarres to answer their request for assistance.  They assert that help will not come and that instead measures be taken for their evacuation and safety.
June 6, 1797 – Thomas Paslow requests that a proposition be considered the Public Meeting that all inhabitants wishing to evacuate the Country and not inclined to defend it be at liberty to leave after notice to the Superintendent and grant of definite time to carry out their intention and if they fail to accomplish their evacuation within the time granted they shall be considered and treated as forfeiting their allegiance. He furthermore declares, 'that the man who will not defend his Country is not entitled to reap the benefit thereof..'
June 7, 1797 – The Public Meeting in response to a request from Colonel Barrow resolves that the existing laws and Regulations should be the form of government in the future. It is also resolved that the half of the population of negro strength was to be used in the defense of the Settlement.
June, 1797 – Colonel Barrow reports to Lord Balcarres of food shortage, drought, and a lack of arms and ammunition. The Ships Montego Bay and Mary arrive from Jamaica with provisions for the Settlement.
September 2, 1797 – Lord Balcarres sends a letter to "The Settlers at the Honduras Bay." He states that three companies (200 men) of Infantry, some artillery and ammunition and six months of provisions for 1,200 men have been sent to the Settlement. He also suggests that women and children be removed.
October 12, 1797 – Colonel Barrow reports to the Public Meeting that due to poor health of the Irish Brigade they are inadequate to defend the settlement and requests that a measure be adopted to provide 100-120 additional men from the settlement. Of the 210 men who left Jamaica for the settlement 25 had died and 65 were sick.
October 14, 1797 – Magistrates report that "they have not the smallest inclination to bring forward …any of their slaves for the Service…without receiving a reasonable recompence."
January 19, 1798 – Public meeting resolves that four look-out boats with one dorey that ten men, preferably free coloured men, be employed in each boat.
January 29, 1798 – Earl of Balcarres informs Colonel Barrow that he is sending officers, and drummers of 3 companies of the 6th West India (Black) Regiment and expects the Settlement to provide 171 privates from their well behaved slaves, who will receive during service pay similar to a British soldier and be liberated on ratification of peace with Spain. If not achievable on those terms pay 15.15.0 to all free men of color and free negroes who enlist, and if failing to get sufficient free men 70 may be paid to slave owners for each slave.
February 23, 1798 – Settlement will be able to provide 171 negroes, but believes that the inhabitants will accept to sell slaves to the Government on terms as may be agreed.
February 24, 1798 – In a letter to Governor Balcarres Colonel Barrow suggests that they attack Bacalar.
March 28, 1798 – Governor Balcarres rejects Barrow's suggestion for an offensive operation and therefore, is to "remain upon the defensive, nor take any step that may tend to irritate the Spaniards if they can avoid it."
June 24, 1798 – Governor Balcarres in a letter to the Duke of Portland states that while all is quiet in the settlement that "a report prevailed that the Spaniards were meditating an attack upon the Settlement." Furthermore, that Colonel Barrow is taking proper precautions.
July 20, 1798 – The Public Meeting reports of the approach of an Armament of the Spaniards assembling near Cozumel. They agree on the following actions:
to bring the whole effective strength of the country to bear arms, including all men of whatever class or color;
that all men fit to bear arms be brought in from the Mahogany works;
that martial law be declared;
iv) request that Colonel Borrow consider slaves (in the case of at Haulover and Black Creek.
July 21, 1798 – The Public Meeting resolves that places be made available for women and children to be sent for shelter along the Belize and Sheboon Rivers.
July 21, 1798 – In response to the slow decisions making and apparent disharmony among the settlers, Captain Moss sends a letter to the Magistrates demanding that a unified and decisive move be made to defend the place. He states, "… any person attempt to escape or effect their retreat to the River Sheboon or any other place to which they may pass within gun shot or Merlin I am determined to oppose it…" He demands an answer by the 22 of July and assures that a unified decision will result in the Merlin's full support in defense of the settlement.
August 9, 1798 – Orders for burning of Houses and property at St. Georges Caye are carried out.
September 3, 1798 – Spanish Fleet sighted on its way to the Settlement.
September 4, 5, 10th – The Settlers due to a superior defensive position, prior planning and strategic position fend of the Spaniard attempts at invasion.
| | |
| --- | --- |
| The Defending Fleet | The Spaniard Armada |
| H.M.S. Merlin – Sloop of War | The Vessels which made the attack in number –9 |
| Towser and Tickler – each with one -18 pounder and 25 men | Reserve of equal force – 5 |
| Mermaid – one short 9- pounder and 25 men | A large sloop of equal force, and six schooners, not so large but armed in the same manner as those which same down to attack, and drawing as much water – 7 |
| Swinger and Teaser – each with six – 4 pounders and 25 men | Transports, victiallers etc.. all carrying bow and side guns of different calibers -11 |
| Seven gun flats – one 9 pounder and 16 men | |
| 700 troops " of all colours and descriptions | |
Courtesy: Belizean Studies Resource Center, St. John's College
Timeline compiled from sources: Andrews, Y. (Ed.) ., Essays on the Battle of St. George's Caye, St. John's College, 1931 Burdon, J. A. , Archives of British Honduras, Vol.1. , Sifton Praed and Co. Ltd. 1931.
How the celebration started
An Editorial appearing in the Colonial Guardian newspaper of 1898 mentioned in part that "the subject of the celebration of the Battle of St. George's Caye is now occupying the public mind. That such an event ought to be celebrated by the inhabitants of British Honduras with some pomp and circumstance goes without saying; for not only is it by far the greatest and most glorious event in the annals of this portion of Central America, but it secured forever for the Baymen and their descendants and successors civil and religious liberty and good government…That we have not suffered during the last hundred years what all Latin America for long suffered… is due to the heroism of the victors of the Battle of St. George's Caye on the 10th September, 1798, whose glorious deed of 'derring-do' may the inhabitants of British Honduras ever keep in grateful remembrance."
On 6th April 1898 a public meeting was held at Riverside Hall on North Front Street in Belize City to consider the celebration and commemoration of the Centenary of the Battle. Addresses were delivered by Henry Charles Usher, J.P., Dr. Charles R. Eyles, R.H. Logan, Sydney Gower Woods, and Carl Metzgen. Some of the resolutions made were that a) the event be celebrated, commemorated and duly observed each year after this; b) that 10th September be declared a public holiday; c) a Committee of forty members be appointed with power to add to their number for the purpose of carrying out the objects of the resolutions.
Since 1898, the anniversary of the battle has been commemorated every year in the 10th September with various levels of festivities. One sad incident marred the celebrations in 1931 when the worst disaster to affect the country in the form of a hurricane devastated Belize on the 10th September and left 2,000 persons missing or dead.
There are several names that could be mentioned as playing significant roles in the Battle of St. George's Caye and its aftermath, but there is one we would like to especially honor. He is remembered as, not as one who fought in the Battle, having been born 35 years later, but one who succeeded in preserving for us a significant yearly celebration of the Battle.
Simon Lamb, born in 1833 and died in 1913, was described as a man of vision, who succeeded in allowing generations of Belizean to recognize the 10th of September and celebrate accordingly every year.
Source: Vernon, L. (1994) I Love to Tell The Story. Heritage Printers, Belize City
The Battle of St. George's Caye (10th September)
European settlement in Belize was present in the early 1500's with the visit of Christopher Columbus to the Bay of Honduras. The Spaniards were intent on conquering and subduing the Yucatan coast in 1511, inclusive of the Belize region. The first recorded European settlement in Belize was in 1638 by shipwrecked British sailors. These British settlers, known as the Baymen, cut logwood in Belize for export to Europe. Periodic attacks by Spain to reclaim sovereignty ensued, resulting in treaties between England and Spain, allowing the Baymen to continue cutting logwood.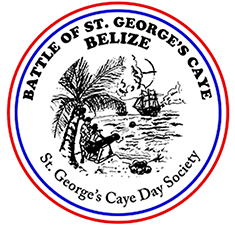 On September 10th, 1798 a battle between the Spaniards and the Baymen was fought at St. George's Caye. It was part of an outbreak of war between Spain and Britain. Against unfavorable odds, the Baymen defeated the Spanish and they never tried gaining control over Belize again. Britain gradually assumed more control over the settlement. In 1853, a Legislative Assembly was established and replaced the existing simple form of democracy that was instituted as the Public Meeting. In 1862 the settlement became a Cololny and later in 1871  became a Crown Colony with a Legislative Council and a Lieutenant Governor. In 1884, Belize was governed by a Governor.
On September 10th, 1798, Belize's destiny was being planned. The outcome of the battle predicted the fate of this young nation and would mold its future in many different respects, as compared to those of its neighbors. As a result, today Belize is the only country in Central America where English is the official language. Furthermore, her history, culture, and people all contribute to the diversity and flair of what is Belize – an uncommon and exceptional trait in the region. Today, over 200 years later, the 10th of September is still celebrated as a National Holiday in Belize. Many activities are planned all over the country to commemorate this historical event, which garners great support from the Belizean public.
(Adapted from Belize Today, It's History, Culture & Ecosystems, produced by the Belize Tourism Training Unit, 2004).