Close your eyes and picture a sandy shoreline with crystal clear turquoise waters washing up on the beach over your feet, as the leaves of tall coconut trees sway in the tropical breeze.
Now, open them.
Wouldn't you want to spend your days there? Well, you can.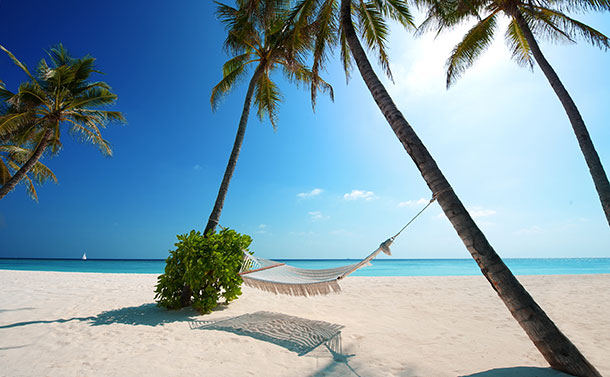 The Caribbean is one of the most sought after destinations for total relaxation. For most visitors, they only get to come once every couple years to reward themselves for their years of hard work; some don't get the privilege of a visit at all. But that doesn't have to be the case.
The Caribbean countries include Anguilla, Antigua & Barbuda, Bahamas, Barbados, Bay Islands, Guyana, Belize, British Virgin Islands, Cayman Islands, Dominica, Grenada, Jamaica, Montserrat, Saint Kitts & Nevis, St. Lucia, St. Vincent & the Grenadines, Trinidad & Tobago, and the Turks & Caicos Islands. These Caribbean countries provide a slower-paced lifestyle with lots of the same modern amenities as in most first world countries for a lesser standard of living. Because of this, your dream of living in the Caribbean is not that far out of reach.
If you're tired of the congested, non-stop bustling of urban living and are ready to start anew in your very own tropical oasis, follow these 5 steps to retiring in the Caribbean with ease.
Research the Caribbean Lifestyle
There's a common saying that goes "all that glitters isn't gold". That saying can hold very true if you just up and move to a new country that you've only seen in pictures and haven't had any personal experience with.
As beautiful and relaxing as the Caribbean is, starting a new life there isn't for everyone. The Caribbean has a completely different culture from the rest of the world.
Here are some things to look for when researching if the Caribbean lifestyle would be a right fit for you.
Weather – Make note of the annual temperatures and prepare yourself accordingly. Remember the Caribbean countries are in a sub-tropical climate that is warmer and sometimes more humid than in most North American and European countries.
Cultural Differences – The cultural differences of a new country do serve as a thrilling perk when travelling. However, for a more permanent relocation, these differences can overwhelm you at first if you aren't prepared for them.
Choose a Caribbean Country to Call Home
To help with this choice, you'll have to do a little deeper research. Here, you'll look at factors that are important to your lifestyle.
These are some factors to consider during this phase.
Food – Although trying new foods is an exciting way to get to know a new country, not having the type of foods you like or are accustomed to can make the move a bit more difficult than it has to be. This isn't a deterrent, but it's better to be prepared than surprisingly disappointed when you're homesick and your comfort foods are nowhere to be found.
Cost of living – While the Caribbean does offer a cheaper cost of living, you should not underestimate what the costs of imported items you're used to using everyday may be.
Infrastructure – Each country in the Caribbean have varying levels of infrastructure. Analyze the options, and see which best suits the lifestyle you're looking for.
Health care – Since you're considering a Caribbean country for your retirement, this point is especially important. It's common for major health conditions to reveal themselves later in life. So, it's best to be prepared and ensure that the country you're moving to has adequate health facilities to deal with any known or anticipated (based on family history) health issues that you will/may need assistance with after your move.
Consult an Offshore Retirement Specialist
To make the big move to the Caribbean a whole lot easier, offshore financial service providers offer several investment opportunities to help prepare you for your retirement from an early age. These opportunities include forming an offshore company where you can earn tax-free income that you can use during retirement. Another option would be an offshore pension trust to safeguard your assets until when you retire. There are many other options you can explore, simply consult with an offshore financial service provider and discuss options available.
Look for A Home
Now on to the really exciting part- finding a new home. Everyone can appreciate a fresh start; and nothing does just that than a new home in a new country. However, this step will take some time since you aren't familiar with the new country. The experts at Belize Real Estate Brokerage can help get your house hunt running. You can also consult consult with other local real estate agents to help you find the right home to suite your needs.
Some things to consider when looking for a new home are:
Size
Neighborhood
Proximity to amenities
Plan a Visit
This visit is necessary to get a hands-on feel of the area you'll be living in and to see any homes your real estate agent might have found for you. It is very important for you to visit the Caribbean country before you move so you can make sure that it will suite your wants and needs, so you don't plunge money into it with investments only to be uncomfortable there.
This list is by no means a definitive list; but rather, a basic guide that can help you decide if a Caribbean lifestyle is right for your retirement.