Some of the most important elements in a Belizean Christmas are the Black Fruit Cake and Rum Popo. These yummy treats probably rank as high Santa and Rudolph the red nose reindeer for Belieans on their "My Christmas isn't complete without …" list. We want to make sure that your Christmas brings lots of joy, gifts and delicious food! So enjoy these recipes for Black Fruit Cake and Rum Popo.
How to make Belizean Black Fruit Cake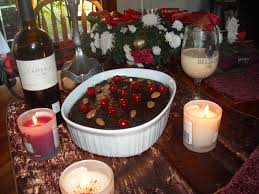 Ingredients:
1 lb. butter
1 pt. stout
1 qt. rum
2 lbs. flour
1 tsp. allspice
3 lbs. brown sugar
1 lb. of each fruit
o Raisins
o Prunes
o Currants
o Dates
o Cherries
o Pecans
½ pt. caramel coloring
8 eggs
1 tsp. baking powder
1 tsp. nutmeg
Directions:
Stew all the fruit with 1 lb. brown sugar and rum. Cook the mixture until the liquid becomes thick syrup. Let the fruits cool overnight.
In a large mixing bowl, cream the butter along with 2 lbs. brown sugar and add in eggs one at time. Then add flour, baking powder, all spice, stout and caramel coloring one at a time to the mixture. Lastly, fold the stewed fruit to the mixture. To avoid having the stewed fruit sink to the bottom of the mixture, drain them, mix with 1 beaten egg and dredge in flour before adding it to the batter.
Now, line your cake pans with parchment paper and fill about ¾ ways with the batter. Bake at 270˚F for about 3 hours.
How to make Belizean Rum Popo (Eggnog)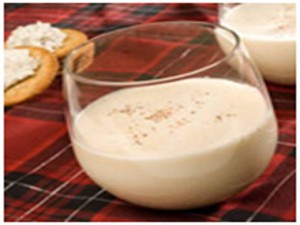 Ingredients:
9 Eggs
4 Nutmegs (Grated)
1 Oz Cinnamon Stick
1 Pint Colorless Rum
5 Tins Large Evaporated Milk
3 Tins Condensed Milk (Or to taste)
½ Lb. Raisins
Directions:
Beforehand, soak cinnamon stick and raisins in rum for 2 days.
Beat eggs well (15-20 minutes removing beater and rinsing in clean water several times to remove strings or eye of egg). Next, add evaporated milk & beat again. Add condensed milk and check for desired sweetness. Then add grated nutmeg & rum that was used for soaking (be sure to strain before using). Blend the mixture again and store in clean dry bottles.
Store the final product in the refrigerator. Shake well before serving. Enjoy!