Flying for long periods of time can be draining – mentally and physically. In addition to the stress of airport security procedures, ensuring all your essentials are packed and aboard the plane, you'll also be navigating tense personal emotions and traveling companions.
Though the aforementioned traveling challenges are commonly mentioned, the physical toll your body takes during traveling is sometimes underestimated. Besides the feet swelling, dehydration, dry skin, headaches, poor sleep, there is – of course – jet lag and often dramatic changes in temperature and humidity.
It's clear: the body and mind need to be extra prepared for these stressors, and simple steps can be taken to avoid the fatigue and overwhelm that too often accompanies flying. Especially if you suffer during longer flights and are looking to ease your flight comfort, these flight tips are for you!
1. Get a good seat
When you check-in, ask the person assisting your flight details if they could book you a specific seat. Some people prefer to sit in a window seat, to better enjoy their view and lean against the cabin. Others, mainly people who prefer extra space or those who may feel uncomfortable going to the toilet throughout the flight, enjoy the aisle seat. Whichever seat or location in the place suits you better, see if you can book your ideal seat!
2. Upgrade your flight comfort
Of course, if it's possible, it's recommended to upgrade your flight. Moving into business and especially first-class allows you to sleep, eat and rest in complete comfort. One should not undervalue the impact that even medium-haul flights take on the body. The top tip is to fly in comfort.
To enjoy utmost comfort during your flight, there are also options to fly to your dream destination in absolute style! Traveling all around the world are luxurious air services, such as bitluxtravel.com/, which specializes in high-end travel options. If traveling in style is more to your liking, consider whether a private jet or even helicopter charter would work better for you.
If you're flying to a smaller, more secluded destination like Belize, its small runway cannot comfortably accommodate larger planes. Therefore, you may as well take advantage of this perfect excuse to spoil yourself and your loved ones – with the holiday starting before you even arrive!
3. Check in early
If you are traveling on a commercial flight, it's important to check in early – ensuring your seat, punctuality, and relieved nerves. If you choose to fly privately, this does not apply to you, as your flight will cater well to you, prioritize your every need and satisfy any time concerns.
4. De-stress on the flight
Though the physical impact of travel is only now becoming better understood, it is best to make sure you feel comfortable and physically fit during your flight. Ensuring physical relief will be easier if you choose to fly in comfort (tip number 2), but it's essential to remember to use a pillow, a blanket, and even some earplugs for better sleep. To make sure your body is relaxed, stretch whenever you feel the need. If you are on a smaller plane, personalized care will ensure your comfort will not be a concern.
5. Dress wisely
Dressing smart is about understanding your comfort needs and preparing for temperature fluctuations. It is advisable to wear layered clothing during your flight, as you can remove or items as you need – affording you many options during your flight.
It's also wise to consider your shoe wear, making sure your feet won't feel too restricted by potential swelling or uncomfortable while you're relaxing. Avoiding heels and heavy boots are a great idea. Plus, consider bringing along some socks to assist with swelling.
6. Proper nutrition
Good nutrition is essential before, during, and after your flight. It's important to stay hydrated and to eat some light snacks during the flight to boost mood, stabilizing blood pressure, and reducing your risk of motion sickness.
If you'd like to take your own snacks onto the plane, make sure they're compliant with flying regulations. Additionally, there are some recommended foods to eat and those which are better to avoid before and during the flight. Do some research and see what works best for you.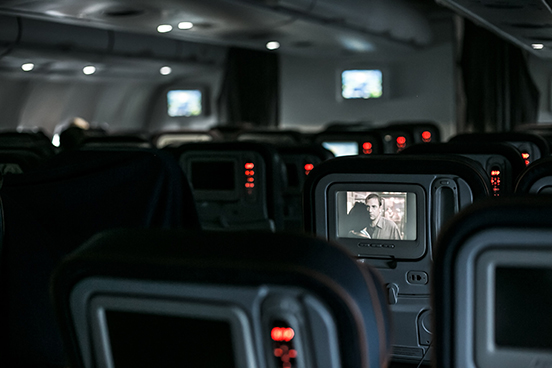 7. Personal entertainment
Lastly, bring some entertainment for yourself. From music, podcasts, a journal, or a book, longer flights are likely to be somewhat restrictive. So, allow yourself to make good use of your travel time. Side note: Another benefit of higher-end travel is the likelihood of wifi on the plane, plus a great selection of movies and in-flight entertainment.
Enjoy your travel – and flying – experience! It may make all the difference to your restful time away, minimizing the physical impact of flying and leaving you more energy for your days in paradise.