House, condo or apartment?
One of the best places to live in the world is our Jewel, Belize! With her beautiful coastline of golden sandy beaches and intoxicating Maya mountain views inland, Belize is a feast for the scenic lover's eyes. Belize is not only beautiful with its natural wonders but also with its people, who are very warm and friendly.
If you have already decided to make the move here, you're next contemplation may be what type of home you want. The main residential options in Belize are owning a home or condo, or renting an apartment. If you're not sure which will best suit you, below are some quick pros and cons of each to help make your Belize real estate selection easier.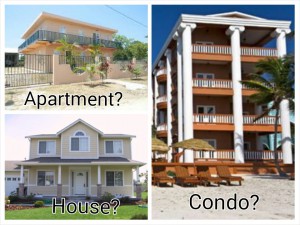 House
One of the main benefits of owning a house in Belize is the ability to customize it as you please. You can either buy a pre-owned or newly built home to personalize as you please, or just as easily build your own customized home in Belize. There are very few regulations in Belize for building a new home or doing renovations.
Another great benefit to owning a home is just that- when you've paid off the mortgage, the home is absolutely yours. It comes at one cost (albeit, sometimes, huge) but once it is paid for, it is yours for life.
Lastly, a house is the most private option of the three as all houses in Belize are standalone, with most providing enough outdoor space for a yard or garden at least.
However, apart from these benefits come disadvantages also. Houses carry the most responsibility as any repairs or upkeep is the owner's (your) responsibility; therefore requiring a bit more expense down the road to maintain.
Condo
Condominiums are popping up all over the country in recent years and are becoming very popular especially among expats or international visitors just looking for a vacation home. The most popular parts of the country that offer great condominiums are in Corozal, San Pedro, Hopkins and Placencia.
Condos come in a wide range of sizes from small one bed, one bath options to deluxe sizes with 3+ beds and baths. The size all depends on your needs. Similarly to a house, a main advantage to condos is that you are the owner. And unlikely to a house, condos are cheaper and often times come with property maintenance as an added convenience to owners. This means that grueling chores like mowing the lawn and cleaning the pool are all taken care of for you.
Most condominiums are in a gated property, making them very safe. Having neighbors close by also adds to the condo's security and gives it a more social feel. Some condominiums even offer property management for those owners who only use their homes part-time and want to use it as an income property.
Some may see owning a condominium to be a drawback in itself as it's a more "shared space" in comparison to a house. Condominiums are definitely not as private as having your own house since you'll definitely have neighbors directly beside, below or on top of your condo.
Apartment
Apartments are the cheapest option among the three but are more suited toward temporary, short-term residents.
Aside from being cost-effective, apartments are great for those who are always on the go. Most repairs to the apartment or building are the responsibility of the landlord. Similarly to the condo, apartments are also the more social living option as you are guaranteed to have neighbors nearby all the time. Cost efficiency and low maintenance are the main reasons apartments are the sweetest deal to younger people seeking a first-time home or for those that are always on the go and don't spend much time at home.
Get Help from Top Belize Real Estate Agents
If you need more advice or help finding the perfect home for you in Belize, here are some trusted brokers ready to assist you.
Getting your stuff to Belize is a breeze with Belize shipping and freight srevices by BTALCO. If you're buying any real estate in Belize its best to get help from a Belize attorney to ensure all the necessary checks are done for the transaction to flow as smoothly as possible. Marin Balderamos Arthurs LLP or Estevan Perera are great options for real estate lawyers.
For those international buyers, there are international financing services available through companies like Belize Corporate Services. They specialize in setting up IBC's, trusts and international foundations to secure your investments. They also provide Belize offshore banking services through their partners.
Of course, you'll need somewhere to stay while looking for that dream home. If you're interested in Southern Belize, make Coconut Row your home base while you house-hunt. They provide guests with comfortable accommodations in the heart of Hopkins, Belize.
Which option do you think is best in our Belizean society? Know of any homes to rent or buy? Let us know in the comments!