The Ariel Rosado Memorial Education Foundation celebrated is fourth annual scholarship award ceremony at the Lion's Den in Belize City.
When the foundation first started, it primarily aided primary school students to further their education. After, the foundation went on to grant 10 students scholarships to learn how to sail under the guidance of the Belize Sailing Association. Also, 17 high school students were granted scholarships to cover payment of fees and books, while three other students got tuition scholarships to Galen University in Central Farm.
This year, the foundation has increased the number of recipients to 48 – 20 from secondary schools, 3 at the university level and 25 sailing scholarships.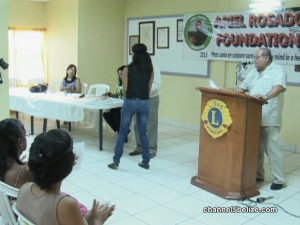 Secretary of the Ariel Rosado Memorial Foundation, Salvador Awe, said, "This is the culmination of the year's work that we do and it is really the highlight of the year because we actually see the fruits of our labor. We have awarded thirty-odd scholarships to very deserving youth and if you saw some of the earlier footage, you will see that they are well spoken….most of them are doing very well in school…in fact some of them are topping their classes. Mind you, these are children who might not have had the opportunity to even go to high school and now they are successful in doing it and we are very happy and honored to be a part of their success."