The Belize Basketball Federation (BBF) is delighted to announce and congratulate Clency "Coope" Lopez, Belize National Basketball Team's starting point guard, on his award of a full basketball scholarship from Midland College located in Midland, Texas, USA.
Midland College is a public junior college established in 1972 and participates in the National Junior College Athletic Association (NJCAA) in the US. Our National Team Head Coach, former National Team star player and former NBA player, Milton Palacio attended Midland before moving on to Colorado State University, a Division 1, NCAA school.
How can going to college change your life.
Milt was instrumental in facilitating Coope's recruitment by Midland and he continues to seek out similar opportunities for our other young and upcoming players.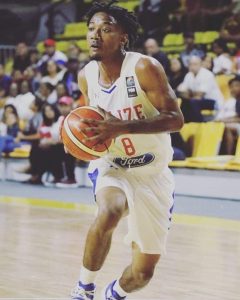 Born and raised in southside Belize City, Coope has been a part of the BBF's programmes since the age of 12 when, ironically, he was left off the U12 National Team which won a bronze medal in Guatemala. A few years later, he was again left off the U16 National Team which won a bronze medal in Honduras. Never deterred, his passion for the game, resilience and determination drove him to continue honing is craft to become a standout player in high school at Sadie Vernon High School, then eventually moving on to the National Elite Basketball League (NEBL) where he has been an anchor for the Belize Hurricanes franchise winning two league championships.
In 2017, at the age of 19 years old, Coope made his National Team and international play debut this time at the men's level, and as the starting point guard, led our Team Belize to a bronze medal in the Central American Games in Managua, Nicaragua. Basketball was the only team sport to medal for Belize in those games. Coope averaged 14 points, 4 rebounds and 4 assists per game, impressing Coach Milt and earning the respect of the opposing teams.
Coope played big again for Belize in 2018 leading us to a silver medal in the COCABA World Cup qualifier tournament held at the Civic Center in July, 2018. This qualified us for the second round of play which was held earlier this year in February, again right here in Belize. Fans may recall his brilliant performances against regional powerhouses Antigua, Cuba and the Bahamas.
Coope departed Belize on 21 August and we anticipate great achievements from our young star.
A modest but fearless warrior who stands a few inches taller due to the size of his heart, Coope comes from humble beginnings. We know that he will make the most of this opportunity for himself, his family and for Belize.
The BBF expresses gratitude to Coach Milt Palacio, Coach Patrick Rafferty from Midland College, Coach Matthew Smiling, Jay Jex, Mayor Bernard Wagner and the Belize City Council, and VIP Wireless who have all contributed to make this possible for Coope.