If you're planning on taking a road trip around Belize to explore the beaches, rainforests, and Mayan ruins around the country, one of the possibilities you might want to add to your list of activities is scuba diving.
Many experienced divers rank Belize high on their list of places to go diving, but even inexperienced divers can enjoy some locations around the country. Belize has one of the largest barrier reefs in the world. Shallow waters contain plenty of coral, while sea creatures such as turtles can be found in deeper water.
Many divers already know about the Great Blue Hole dive location. Not as many divers know about Half Moon Caye, which is a hidden gem of a location that is perfect for diving.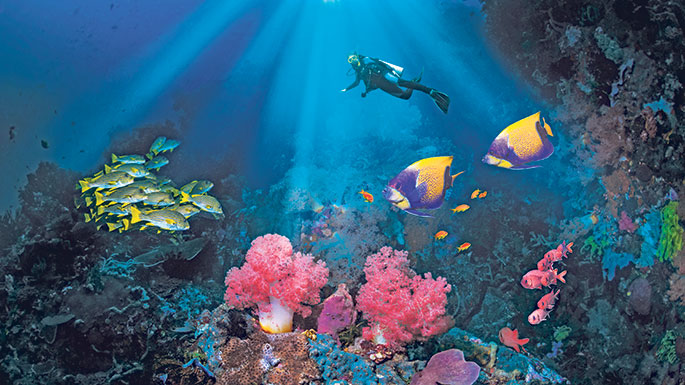 Visiting the island
Half Moon Caye is an island that is about 52 miles from the mainland. To get there, visitors need to take a tour boat or use a privately owned boat/seaplane. While most diving tour boats will go straight to the dive location, but sometimes visitors can visit the island.
Half Moon Caye is a marine protected area and a bird sanctuary. The island serves as a breeding ground for the red-footed booby birds and as a nesting ground for endangered sea turtles. Reptiles, such as iguanas and Belize leaf-toed geckos, can also be spotted.
Dive locations to visit
There are several dive locations to visit around Half Moon Caye. Most divers will want to go to Half Moon Caye Wall, which is a vertical abyss with diverse marine life. Angelfish Wall is another diving location that has a diverse range of marine life.
Divers that are aren't quite ready for the deep waters of Half Moon Caye Wall can head to Elkhorn Forest, Tarpon Caves, or Eagle Landing. Divers will see coral and smaller fish. Stingrays also drift along the bottoms of Tarpon Caves and Eagle Landing, but larger marine animals aren't likely to be spotted.
Clear (but deep) water
Most serious divers are going to head to Half Moon Caye Wall, where the waters are clear but deep. A gentle slope leads to a drop-off, which is surrounded by a coral reef. As divers continue to descend, more and more marine life can be seen.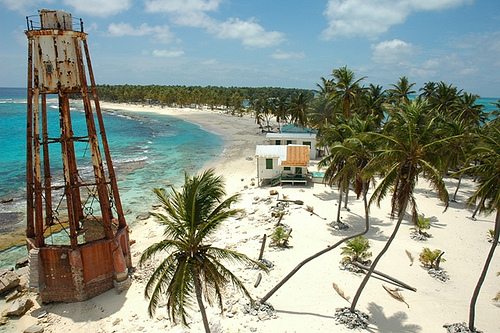 Most of the time, divers are instructed to go no further than 60ft down. However, because the waters are clear, sunlight often reaches deeper depths, so some divers have trouble gauging how far down they are. Divers should remain aware of the maximum depth, however, and stay within an acceptable range.
Plenty of marine life to see
Half Moon Caye Wall has the most diversity when it comes to marine life. Divers will first spot sponges, sea fans, and seagrass. Deeper water holds garden eels, schools of fish, and sea turtles. Fish that can be spotted include groupers and creoles. It might also be possible to catch a glimpse of sharks or eagle rays, but typically they stay further down in the depths. Some divers are even lucky enough to spot dolphins.
Other diving locations around the area will still offer diversity in coral, tropical fish, and rays. No matter what location divers choose, however, they're in for an unforgettable adventure in Belize.
Snorkeling good for beginners
For people that have never gone scuba diving before but are interested in an underwater adventure, it is recommended that they try snorkeling first. Some places have waters that are only about six feet deep where snorkelers can still see coral and some of the smaller fish that are in the area.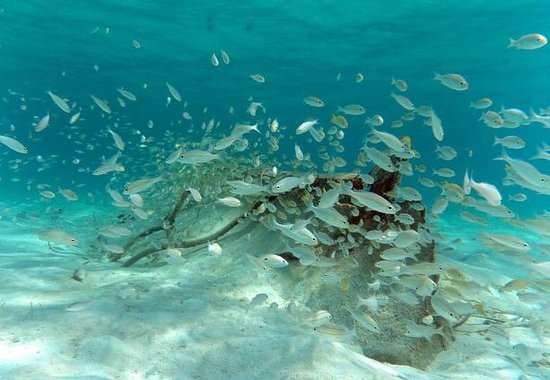 Beginners can choose to go with a guide, who will take them to an acceptable location where they can snorkel. While snorkelers will not likely see larger marine animals (such as turtles), they'll still get a glimpse of what Half Moon Caye has to offer.
Other dive locations in Belize
When it comes to diving in Belize, the Great Blue Hole and Half Moon Caye are just two locations of many. Other population locations include Ambergris Caye (home to Shark Alley, where you can go swimming with sharks), Turneffe Caye, and Gladden Spit.
When choosing a dive location, always consider your level of experience with diving. Areas with deep waters are more suitable for experienced divers, while beginner divers should stick to areas with shallow waters or go with an experienced instructor. Also, make sure you give yourself enough time to thoroughly explore the dive location.
In summary
For divers that want to dive into a deep abyss, Half Moon Caye Wall is a good alternative to the Great Blue Hole. Half Moon Caye isn't that far from the Great Blue Hole but tends not to be as crowded as a location. Visitors also get the chance to explore other dive locations around the island and visit the island itself.