El Día de los Reyes, the 12th day of Christmas also known as the "Feast of the Epiphany" or "Three Kings' Day" is celebrated on January 6th of each year. It marks the end of the holiday season for most Christians.
This day symbolizes the biblical adoration of the baby Jesus by the Three Kings AKA the Three Wise Men (Melchior, Caspar, and Balthazar — representing Europe, Arabia, and Africa respectively). According to the Gospel of Matthew, the Three Wise Men traveled by horse, camel, and elephant in order to present baby Jesus with three symbolic gifts — gold, frankincense and myrrh. They found the Baby Jesus by following a star across the dessert for twelve days to Bethlehem.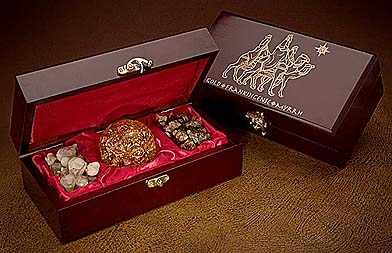 Each gift had symbolic representation to the Baby Jesus. The gold represents Jesus' royal standing as "King of the Jews." The frankincense represents the divine nature of the Baby's existence, since He is not an earthly king, but the Son of God. And finally, the myrrh, often used to embalm corpses, represents Jesus' mortality — foreshadowing His death as a means to cleanse humanity of its sins.
The day is celebrated widely in various ways, but one of the most common details included in the day's festivities is the traditional "Rosca De Reyes" or "Kings' Bread". It is usually round in shape to represent the King's crown. Usually hidden within the sweet bread is a Baby Jesus figurine and the individual who finds the toy in their slice must then host a party and serve tamales on the Day of the Candles, which is celebrated annually on February 2nd.