Discover The Mayan World In Belize
Belize has been labelled the epicentre of the Mayan world. It is home to sacred pyramids, temples and palaces with relics being found to support the use of advanced science, mathematics and agriculture.
This once-thriving nation was brought to its knees by the Spanish conquistadors during the 16th century, although its decline was already in process as a result of famine and war. The ruins in Belize pay tribute to this cultural history. Let's look at some of the Mayan ruins in Belize.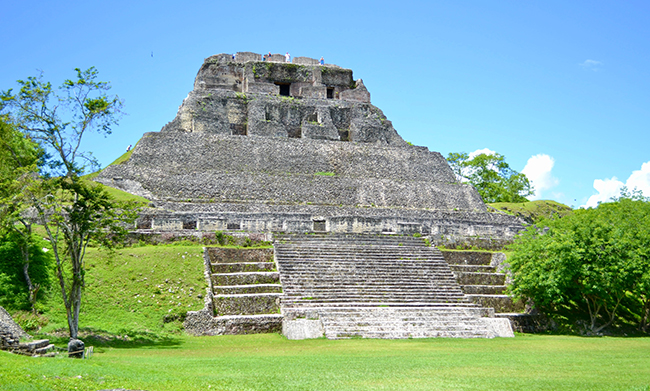 10 Mayan ruins worth visiting
Xunantunich
Located on the Western Highway, in the village of San Jose Succotz just across the river, is the Xunantunich. The stone woman only takes up 300 square metres and is a ceremonial centre. You can reach the site using one of the daily ferries between 8:00 and 17:00. It is home to the second tallest temple in Belize – 133 feet tall – and is one of the most visited tourist destinations.
Altun Ha is found 31 miles north of the former capital, Belize City. The area is rich in wildlife and is home to over 200 species of birds. Altun Ha was once a vital trade centre and consists of two principal plazas. One of the greatest finds to date is the Maya Jade Head representing Kinich Ahua, the Mayan Sun God.
Located in the Chiquibul Forest Reserve along the edge of the Maya Mountains is Caracol, the Spanish word for a shell. It was found in 1938 by a logger. While this is one of the more difficult ruins to reach but the journey is worth it to see the Canaa, or Sky Palace, the largest man-made structure in the country at 140 feet tall.
Cahal Pech means place of ticks and was given the name in the 1950s. Excavations have revealed that the area was inhabited from 100 to 800 AD. The centre of the ruins provides a picturesque view of the area. You can explore different structures that include temples, ball courts, and alter and plain stelae.
This Mayan ruin controlled trade routes, with excavations revealing fishing nets and other coastal objects. To support their role in trade, jade and mica ornaments and golden ear decorations have been found. Check this site and enjoy as much intrigue and excitement.
It's All About Going Back To The Beginning
When you travel to Belize, you are in for quite the historical and cultural experience, even on a shoestring budget. Take the time to discover the ancient ruins in all their glory in one of Mother Nature's best-kept secrets.
If you need a break from it all, speak to your travel agent about fitting in as much of the ruins into your itinerary as possible. In case you need a bit more convincing, keep your eyes out for part two that lists the remaining 10 Mayan ruins that you should visit while in Belize.