The time to prepare for a hurricane is before the season begins, when you have the time and are not under pressure. If you wait until a hurricane is on your doorstep, the odds are that you will be under duress and will make the wrong decisions. Take the time now to write down your hurricane plan. Know who issues evacuation orders for your area, determine locations on where you will ride out the storm, and start to get your supplies now.  Being prepared before a hurricane threatens makes you resilient to the hurricane impacts of wind and water. It will mean the difference between being a hurricane victim or a hurricane survivor.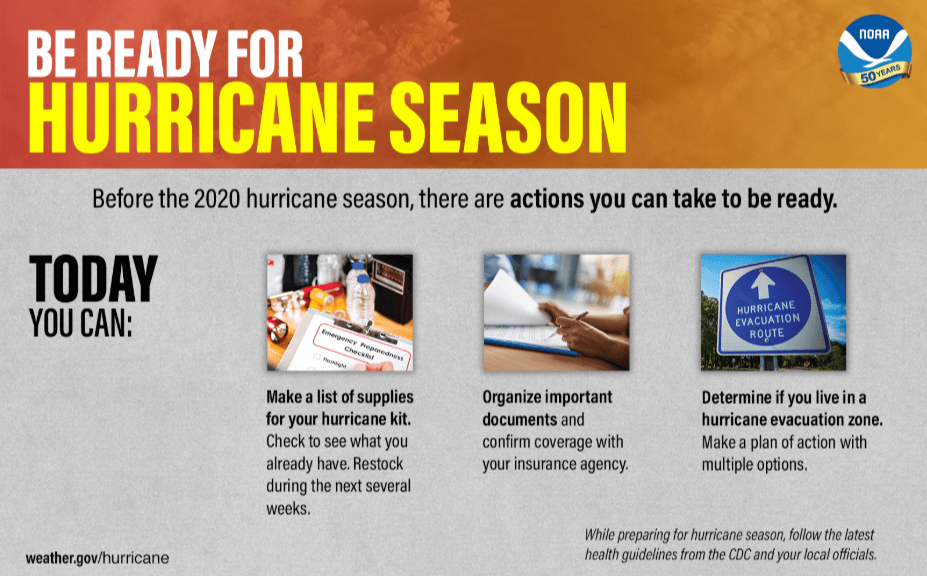 When preparing for the upcoming hurricane season keep the following in mind:
Complete a written plan

Have photo documentation of your valuables
Keep your important documents together for quick access
Share your plan

Help your neighbor

Help your neighbors prepare
Help your neighbors evacuate
Check-in after the storm passes

Strengthen your home

Cover windows
Trim trees
Secure loose outdoor items
Secure all doors
Move your car to a safe location

Get an insurance check-up

Check with your agent
Keep your documents with you
Consider flood insurance
Know your policy

Assemble disaster supplies

Food/Water
Medicine
Batteries, Radio, Chargers
Gas up
Cash on hand

Develop an evacuation plan

Find out if you live in an evacuation zone
Plan out a route
Follow evacuation orders
Plan for your pets

Determine your risk

Storm surge
Rip currents
Inland flooding
Tornadoes
Strong winds
While preparing for hurricane season, always follow the latest guidelines from the local Government, Ministry of Health and NEMO.
Source: NOAA