The public is hereby notified of Statutory Instrument No. 80 of 2021, which will be in effect from July 26 to August 15, 2021.
Amendments outlined in the new SI include changes to the curfew hours which will now be from 10:00 p.m. to 4:00 a.m. daily. Minors are to remain within the confines of private property during the hours of 6:00 p.m. to 4:00 a.m. unless accompanied by a parent or guardian.
Churches located in the villages of Conejo, Midway, and Barranco will not be allowed to operate for a period of two weeks starting July 26, 2021.
Furthermore, the SI informs that frontline personnel who work at a point of entry or exit of Belize shall be redeployed if not vaccinated.
The Ministry of Health & Wellness advises the public to be informed. Visit a healthcare provider for help when making the decision to get vaccinated. Follow all the public health regulations to help prevent, control and contain the spread of COVID-19.
Statutory Instrument No. 80 of 2021 – PUBLIC HEALTH (PREVENTION OF THE SPREAD OF INFECTIOUS DISEASE) (COVID-19) (AMENDMENT) (NO. 2) REGULATIONS, 2021 can be found here.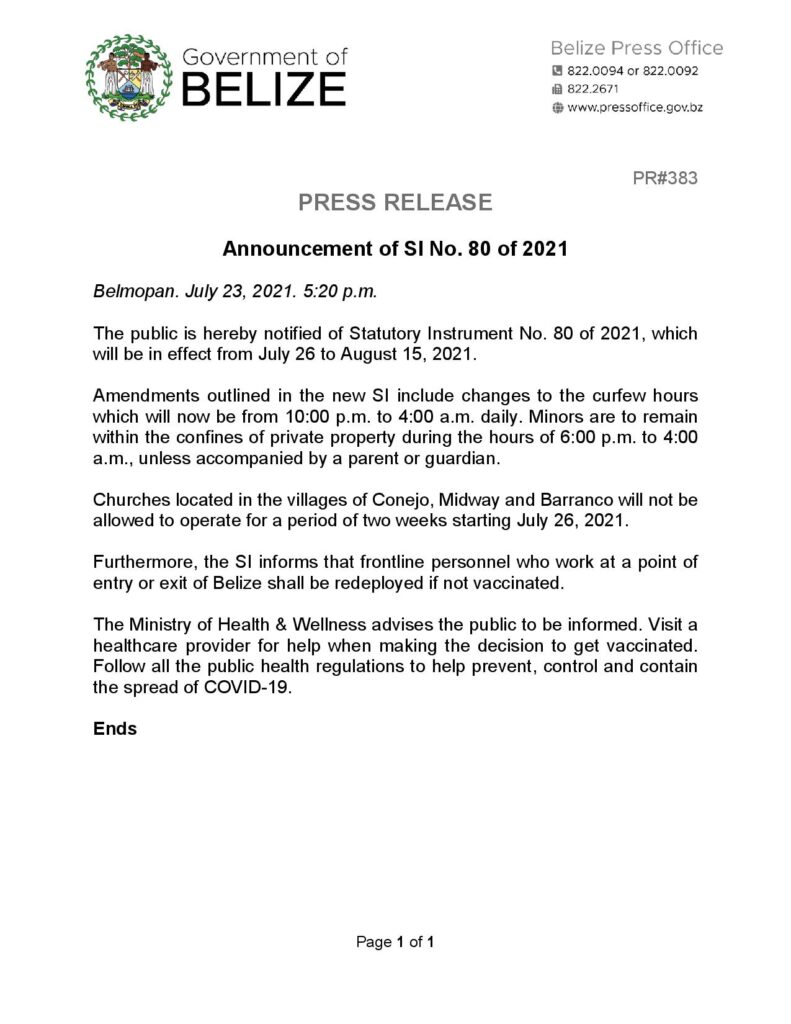 The new regulations were made effective on Monday, July 26, 2021.