Belize has become a an even more popular travel destination in the late 2000's with travelers all around the world flocking to this tiny jewel in the Caribbean to experience its natural wonders first hand. There are unspoiled jungles filled with ancient Mayan ruins to discover, pristine beaches to roam, glistening waters to explore and great friends to meet that will help you uncover all the local treasures that give Belize its unforgettable charm. One such treasure is Tobacco Caye.
Often overlooked in comparison to the larger more prevalent cayes (islands) in Belize, Tobacco Caye is now gaining main stream popularity amongst locals and international tourists alike. To help you become more familiar with this little gem, here are 7 things you didn't know about Tobacco Caye.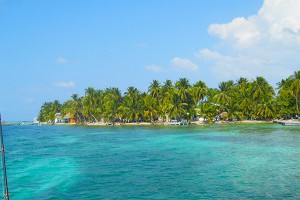 Located in Southern Belize
Tobacco Caye can be found 10 miles East of Dangriga Town in Southern Belize. It is a scenic 30-minute boat ride away from the shoreline.
It is a very tiny caye
In totality, Tobacco Caye is merely 3 acres in area, and approximately 240 meters long and 125 meters wide. Its small size is part of what gives this island its flare. It's an off-the-beaten-path location, making it a wonderful surprise when visitors actually arrive on its pristine shores.
It has an equally tiny population
Tobacco Caye has a permanent population of less than 30 residents. This adds to your experience on the island as it is well maintained in it natural form and although its area is small there will still be enough public space for everyone to enjoy their "own" piece of this hidden paradise.
Growing in popularity among tourists
For a long time Tobacco Caye has gone under the radar, unnoticed by not only tourists but locals as well. Its distance from the country's most populous cities and towns has made it the road less travelled for quite some time. However, there are now more and more people uncovering all the fun that this island has to offer.
It's even gaining international fame
Men's Journal has named Tobacco Caye as one of the Best Beaches in The World for 2014. The article speaks of the many activities and tours that the island has to offer. It also makes mention of all the amazing aquatic creatures that can be seen when diving deep in its waters.
Part of the South Water Caye Marine Reserve
Tobacco Caye is a part of the South Water Caye Marine Reserve. This reserve is the largest in Belize covering 117,878 acres. The marine reserve is a part of the Belize Barrier Reef Reserve System World Heritage Site and is an integral part of the Southern Barrier Reef Complex which contains one of the highest biodiversity in the country.
Loads of activities
Its size and distance from popular city centers might give the impression of a bare plot of land with nothing to do. Tobacco Caye is quite the opposite. Its location is what makes it overflow with a wide array of activies, whether in the water or on land. While there, you can enjoy some of the best fly fishing in the world, swimming, Diving, Snorkelling, island hopping, stand-up paddle boarding and surfing
No shops or restaurants outside of hotels
Don't be surprised when you arrive at Tobacco Caye and don't find a lot of places to splurge. There are very minimal businesses on the island with only a handful of accommodations that have their own restaurants and only a few dive shops that provide tours and activities. But this doesn't take away from your experience. Enjoy the simplicity of the island and make the most of your time here.
Come to Belize and experience this tiny treasure for yourself! If you're looking for a place to stay, be sure to check out Joe Jo's By The Reef who offer spectacular accommodations with ocean front and over the water cabins at great prices!