Governor General of Belize – Sir Colville Norbert Young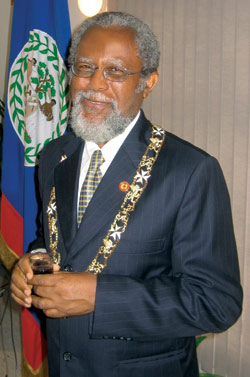 Sir Colville Norbert Young (Born 20 November 1932) is the Governor General of Belize, and also patron of the Scout Association of Belize. He was appointed Governor-General in 1993, taking office on 17 November of that year, and was knighted in 1994.
Sir Colville studied at Belize's St. Michael's College (now part of Anglican Cathedral College (ACC) and not to be confused with the one established recently, and earned a B.A. in English from the University of the West Indies, Mona Campus, Jamaica prior to his doctorate in linguistics from the University of York in England.
Sir Colville was one of the founding members of the Liberal Party, a short-lived political party that ultimately became a part of the United Democratic Party (UDP). Young was interested in seeing Belize's development in academia and education and after returning from England began trying to advance the nation in that regard. In the late 1980s Young became president of the University College of Belize, one of the five parent institutions of the University of Belize, and was one of its senior lecturers. He also got involved in music, composing all manner of musical pieces from operas to cantatas to others. He published a series of books of and about Belizean literature, including "Literature and Education in Belize".
"Creole Proverbs of Belize", "From One Caribbean Corner" and "Caribbean Corner Calling", the last two containing poems in English and Belize Creole. Of these books, "Creole Proverbs" is his most recognized. In 1993, just before becoming Governor General, he published a book of short stories called "Pataki Full", earning acclaim from the local writing community. His stories have been featured in the Belizean Writers Series in "Snapshots of Belize", and a play "Riding Haas" in the drama anthology "Ping Wing Juk Me", also in the Series.
Sir Colville Young has two sisters (Myrna and Jean) and a younger brother (Wally). He also has three sons and a daughter. The eldest son Colville Jr., is also a talented musician. His granddaughter Natasha Young has maintained the family's musical preeminence as a student at the University of North Florida . Second son Lynn Young is an engineer and the CEO of Belize Electricity Limited. Third son Carlton Young is also a self employed engineer and is owner of Young's Engineering Consultancy, while the only daughter Maureen Young is an Accountant living in Florida. His grandson Alobi Young, son of Colville Young JR, is currently in Taiwan studying music.
Young has a stated interest in promoting the development of Belizean music. In addition to producing his own and getting his family into it, Young has actively contributed to efforts in Belizean schools to maintain music as an educational staple. Many of Belize's school bands were originally started by Young's contributions through his Governor General's office. Young recently hosted a band competition featuring some of these bands.