Belize is on the fast track to reopening to leisure travel via its Philip Goldson International Airport on October 1, 2020. This exciting news ushers in many questions for potential travelers. Belize has implemented a five-phase travel reopening plan along with the launch of a Tourism Gold Standard Recognition Program. Both measures aim to enhance and enforce standard operating procedures to ensure optimum cleanliness, safe social interactions, and the like, while allowing visitors to enjoy their stay with minimal impact from the changes brought on by COVID-19.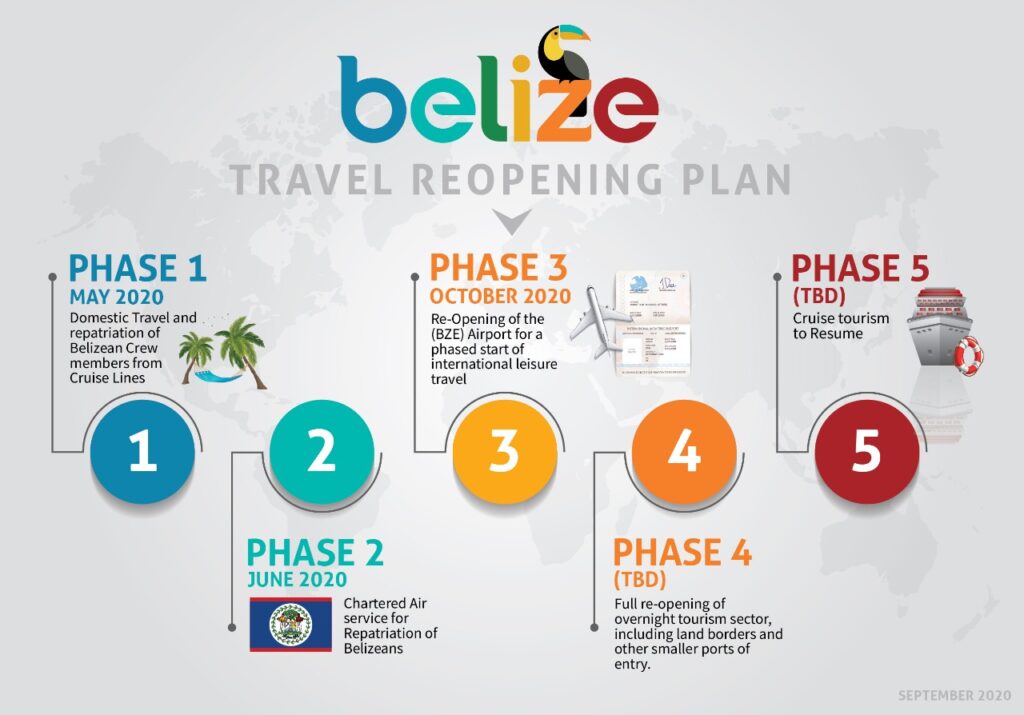 WHAT YOU NEED TO KNOW
The Government of Belize does not currently have any travel bans in place for potential visitors. However, with the introduction of the "Belize Travel Health" App, new procedures have been established to safeguard the health of Belizeans and visitors alike.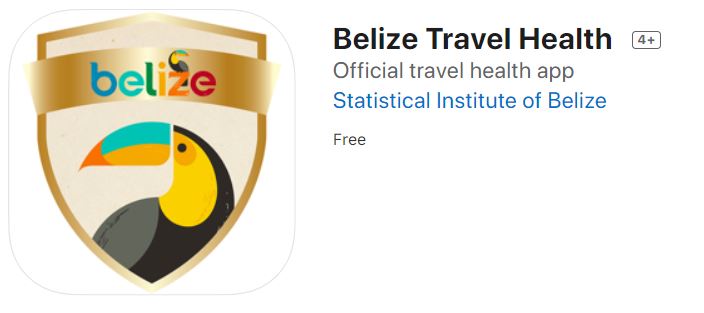 Aside from the regular temperature checks conducted at the International Airport, all travelers are now required to download the "Belize Travel Health" App and register for entry into the country within 72 hours prior to their arrival in Belize. (Note that this eight-step application process should NOT be done more than 72 hours prior to arrival as the unique QR code issued via the App will expire and the process will then need to be repeated.) If registration is not done prior to arrival on the App, attendants will be on hand upon arrival to assist with downloading the app and completing the entry requirements. You will then be required to present the unique QR Code upon arrival at the International Airport.
Here's a quick tutorial to guide you through the process:
Remember, you must have the device used to register on the App with you when you arrive in Belize and continued internet connectivity is recommended since you will be required to check in daily via the App. The App will then track your movement around the country within Belize's "safe corridors" for contact tracing should the need arise.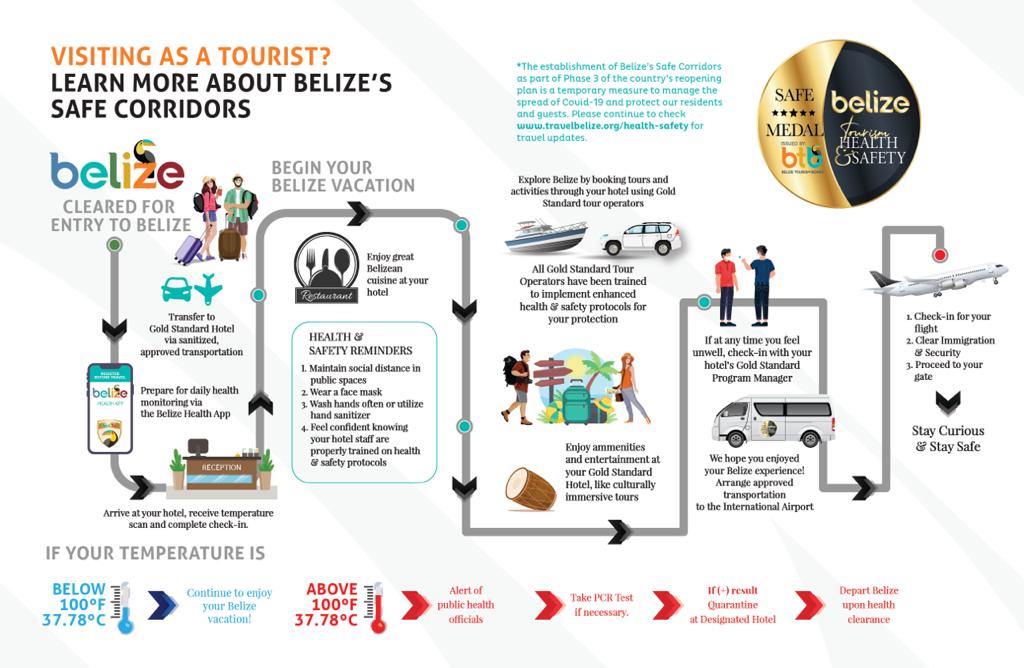 A "fast lane" has been established at the International Airport allowing for an expedited immigration process. All visitors will be allowed to utilize the "fast lane" (including children under 16 years of age) once a negative COVID-19 test taken within 72 hours prior to arrival in Belize is presented. If no prior testing is done, a double rapid test will be done upon arrival at a cost of USD $50.00 per person. The double rapid test includes a Rapid Antigen Test (nasal swab) and an antibody IgG/IgM combo test (finger prick blood test). Those who test positive will be required to undergo a mandatory 14-day quarantine at an approved hotel and at the traveler's expense until they are cleared as negative. It is highly recommended that you obtain travel insurance prior to departure in the event that you become sick while on vacation.
As with most countries, public use of face masks is mandatory in Belize and social distancing is enforced in all public areas.
Learn more about traveler classifications and entry requirements for when travel resumes on October 1, 2020 in the infographic below.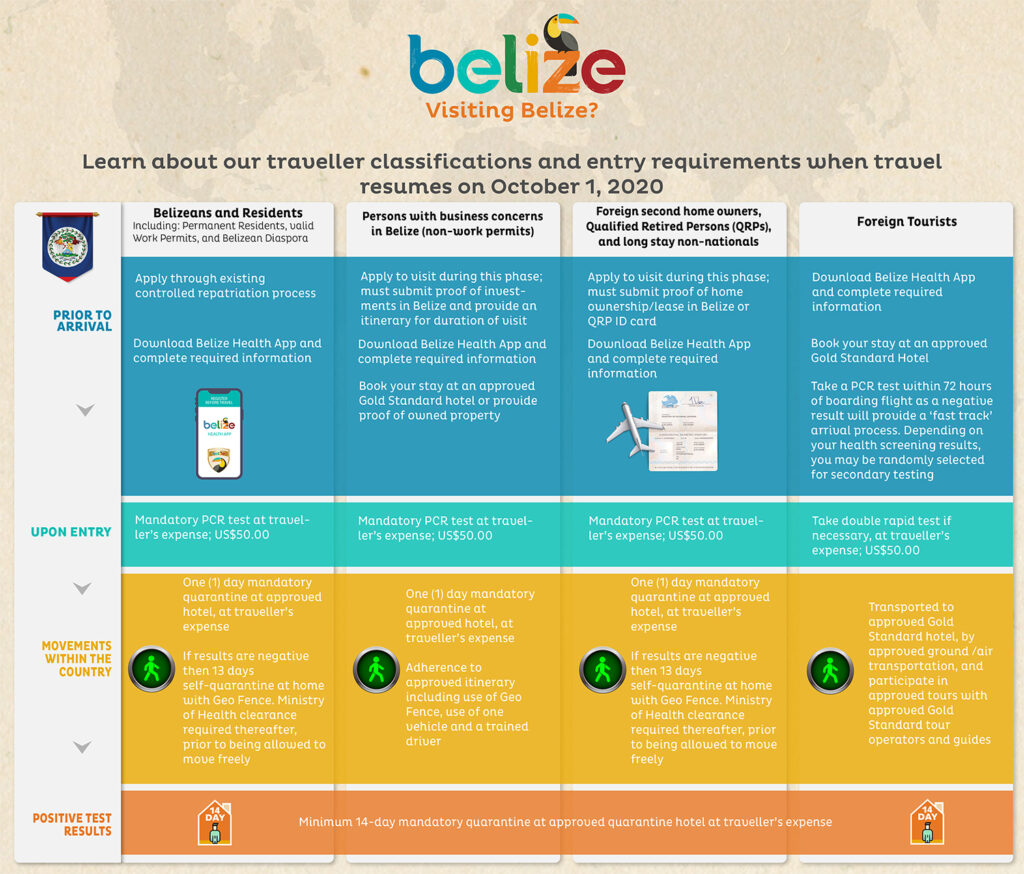 NEW TRAVEL PROTOCOLS
Belize has implemented new travel protocols for visitors which include enhanced health and safety protocols for hotels, tour operators, archeological sites, and national parks. These are outlined as follows:
Hotels

Online check-in/out, contactless payment systems, and automated ordering/booking systems
Hand sanitizing stations across the property
Enhanced room cleaning and increase sanitization of public spaces and high touch surfaces
Daily health checks for guests and employees
Designated 'Isolation/Quarantine rooms' for suspected Covid-19 cases and action plans for handling suspected employees or guests.

Tours, Archaeological Sites & National Parks

New capacity restrictions for all tourism sites to ensure social distancing can be maintained

Smaller tour groups to provide a more intimate tour experience

Sites and Parks to manage tours by appointment to limit the number of persons on site

Enhanced sanitization of tour equipment
Since you are not allowed to explore Belize on your own. You are required to book your stay only with approved hotels and tour operators who have been trained to operate in this new environment. To reiterate, only approved Gold Standard Hotels and Tour Operators that are certified for enhanced health, safety and cleanliness will be allowed to host international visitors.
WHAT TO BRING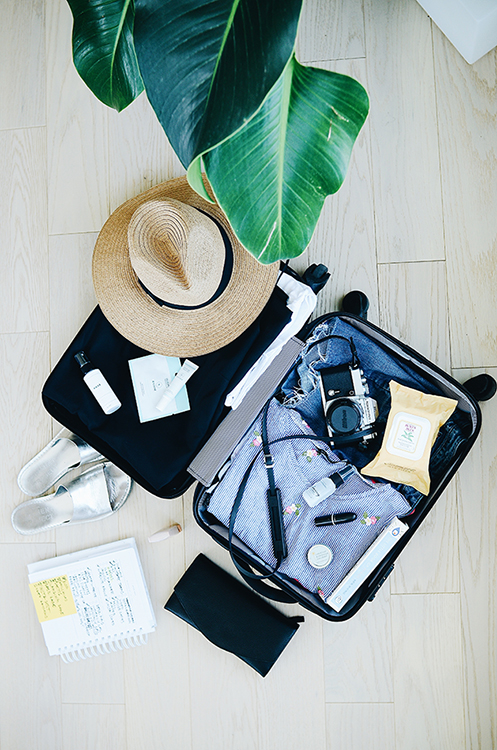 COVID-19 does not seem to be going anywhere anytime soon, so it's important to keep in mind that even on vacation precautions must be taken. Consider bringing along the following to help make your trip an uneventful one:
Face Masks
Face Shields
Hand Sanitizer (with at least 60% alcohol)
Allergy Medication
Cold and Flu Medication
Other Necessary Medication
Travel sized Lysol to disinfect your surroundings in the airplane
Clorox Wipes
Small denomination notes (to avoid having to deal with receiving change)
Sun Block
Bug Repellant
Anti-Itch Cream
After Sun Cooling Gel
Cool/Airy Clothing
Cap/Hat
Water Shoes
Sandal/Flip Flops
THINGS TO DO IN BELIZE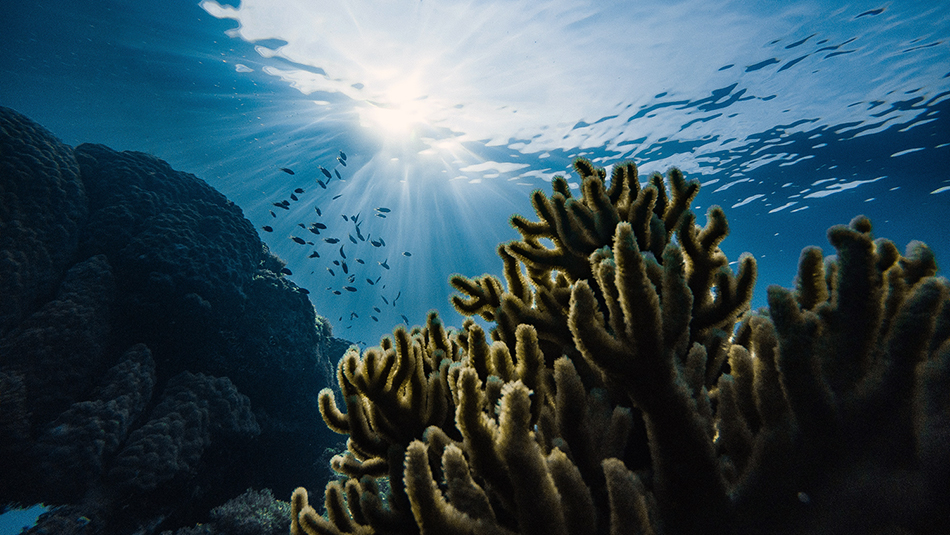 There is so much to choose from when it comes to passing the time while visiting Belize. Nothing is off limits if you are an adventurer. From hiking in the rainforest, to exploring the deep blue sea – you are sure to find an exhilarating activity with one of our Gold Standard Tour Operators. Consider a few of our recommendations:
Get up close and personal with sea turtles – Belize is recognized as one of the world's premier scuba-diving destinations and the sheer variety of this unspoiled reef's ecosystems make it easy to get up close and personal with sea turtles
Roam the majestic Maya Mountains – As the only true pine forest in Central America, Mountain Pine Ridge Forest Reserve is one of the nation's best spots for hiking, mountain-biking, and horse riding.
Dive or Snorkel the World's Second Largest Barrier Reef – Belize is recognized as one of the world's premier scuba-diving destinations, but the snorkeling on the UNESCO Mesoamerican barrier reef system – the second largest barrier reef in the world after Australia – is just as rewarding.
Journey through subterranean caves – Belize's cave network offers adventurers thrills, dramatic scenery, and impressive archaeological sites.
Diving at Half Moon Caye – Half Moon Caye is a hidden gem of a location that is perfect for diving. The island serves as a breeding ground for the red-footed booby birds and as a nesting ground for endangered sea turtles.
Swim with Nurse Sharks and Sting Rays in Caye Caulker – The Caye Caulker Marine Reserve is an awesome diving spot for those seeking underwater adventures. Tourists can enjoy dives at prime spots like the Hol Chan Marine Reserve or the Blue Hole.
Explore Southern Belize – A great place to get a "best of both worlds" experience would be in Southern Belize. There are many destinations and activities to enjoy in the South from the rich culture in villages like Hopkins or Placencia to tours of ancient Mayan ruins to off-the-beaten path experiences in the offshore cayes (islands).
Visit Maya Ruins – Belize is part of the southern Mayan lowlands of the Mesoamerican culture area. The country is estimated to have thousands of Maya ruins with few found and excavated by scientists but most are still undiscovered.