Andidre is gaining fame in Belize as one of the country's most popular Dancehall artist with hits like "She Want Di Wuk", "Champion Bubbla" and his latest hit "Wuk and Bubble" with Jamaican artist Darrio from the Subkonshus Label. On July 12, MyBelize.net spoke with Andidre about this video and his career path.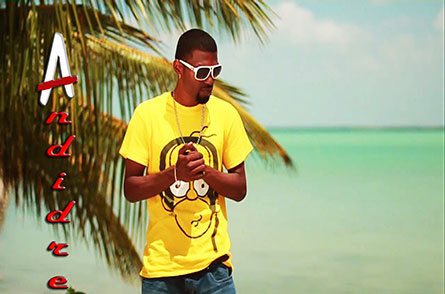 MyBelize.net: When did you first start singing?
Andidre: I started singing at 14, but I've been writing songs from I was 9. I wasn't good at first and I knew it, so I always kept my music to myself until I felt it was at a level that people would appreciate and respect it.
Who inspired you to get started with a music career?
My inspiration was always Dancehall and Reggae music. I grew up hearing songs from Barrington Levy, Super Cat, Beenie Man and my all-time favorite singer, Sanchez. However, they were more of an example of what I wanted my career to be like rather than my inspiration to do music. My drive for music stemmed from my uncle, Oscar Herrera, who had always seen a futuristic vision for music. He took time to sequence his own music and recorded his first EP, Girl That I Know, in 1998 – by far my favorite album. And from then on I solidified music as my career choice.
Your music career in Belize has really taken off, and you've set yourself as one of the top Dancehall artists in the country. What challenges have you faced in the music industry so far?
There are many problems here that not only me, but other upcoming artists from Belize face; a major one being the lack of respect for music as a career choice. People tend to call it a hobby more than a profession.
With that being said, the problem then arises when placing a price on my product, Andidre – the artist. People feel as though our art (being local work) isn't worth what we feel it is. But, this isn't entirely their fault. We as artists, have to start presenting our brand in a professional way if we want to be taken seriously. That's the basis to the actual problem of Belize not having the right resources to assist their local artists in developing their talents to reach a global audience. Starting off in Belize, makes it harder on us to have that international breakthrough and being able to fully focus on our art and make a comfortable living off it.
So how do you plan to overcome these obstacles and change the way people see your brand as Andidre?
Overcoming them is still an ongoing process in which I embrace and work toward. I've had some success in terms of managing my brand and being able to live off my work. But to get to this point took a lot of work and discipline to do things the right way and setting myself up as a business with proper management and promotional team. By doing this, I create firm business relationships so that I can be respected and taken seriously when getting bookings or working with other artists.
In terms of challenges to reach the international audience, I'm basically focusing on tapping in to the people who already have success in the Dancehall and Reggae world – the Jamaican artists. By working more with them, I will gain more respect and knowledge when doing business abroad. I've chosen to work with them on numerous occasions in order to strengthen both my perspective and talent in Dancehall music.
So far, I've reached most goals set for myself, and I'm, determined to reach my future goals. So to answer your question, I've overcome challenges by simply being humble, open, disciplined and educated in the business.
Do you write your own songs?
I write all of my material, but some of my concepts come from my producer, Ito Dan, and management, Oscar Herrera. My muse is basically anything that's in right now. Simply put, before writing I always think to myself "What is the word listening to right now?" That's how I conceptualize and get inspired to write.
Although I like making songs about how I feel and what I want to bring to people, I have to stay current for those messages to eventually come to light. Music is not about me anymore, it's about my fans, paying bills, but mostly about staying popular and relevant. I don't care what anybody says about you have to do it for the love of music itself. I believe I can make songs for people and still love what I create. I believe I can make songs to make money and still love what I create. Lastly, I believe when it comes to lyrics, there will be a place for them sometime but I don't want to be forcing them on my fans. I'll write lyrics about how I feel when the fans are ready to hear it.
Let's talk about your new video, "Wuk and Bubble". What sparked your collaboration with Darrio?
Darrio and I linked up with one Facebook conversation that I initiated to congratulate him on his work; and surprisingly he already knew about me because of "She Want Di Wuk". So we kept talking casually and then I invited him to come to my label's Break Out anniversary in Corozal, which he was excited to be a part of. After a while, he suggested that we do a song together. I agreed and started to draft concepts and sort out riddims right away. I called my producer and he sent me the "Club Lights Riddim", which matched mine and Darrio's vocal style and from there the rest is history.
What was it like working with him?
Darrio is one of the coolest Jamaican artists you would ever find. He's very sharp. Working with Darrio was a cool breeze in the air. He was down for whatever I wanted to do in terms of the music video and song lyrics. We actually got the opportunity to perform together, which was actually his idea. Respect to Darrio every time!
Any future collabs with him or other international artists?
Yes, actually I do have another international collab with someone else from the Subkonshus Team. I won't reveal the name as yet until we finalize the song. As for another song with Darrio, you never know. Let's just see where this one takes us.
I noticed your songs are mainly dancehall and reggae. Do you plan on branching out to other genres?
I have attempted some Pop music in the past that are still unreleased. But, I trained my voice for a genre; and although I would like to do everything, I have to understand that not every genre will be for me. I am very self-conscious about my work. However as music evolves, I will have to evolve with it so it's just a matter of working towards what's in right now and putting my own twist to it. People have asked me about Punta music but I feel that it would be disrespectful for me to attempt a type of music that is sacred to an ethnicity to which I can't identify with culturally. Because I grew up listening to Dancehall and Reggae and their culture is similar to mine, I am more comfortable working with that style and genre of music.
Do you have any love other than music?
Family. My close family means everything to me. We are one unit and one support team for each other. I could lose all my friends but I could never lose my family. Other than that another love would be sports. I used to be a Track and Field start at my old high school. I was very athletic and that stays with me in my soul. I'm very passionate about it still.
Are you working on any other projects we can look forward to in the near future?
Well, the Fathe&Son team has been continuously releasing projects. We have recently released the "True Lovers Riddim" featuring songs like "I Remain" from Denise Castillo and "More than Gold" from I.O.L. and others from the Father&Son's family – Altee, Anika Perez and myself. The riddim is on Amazon and other sites for purchase. We also just released the Mad Rock riddim featuring "Nah Let Go" from Denise Castillo, which is still a big hit today. Ito Dan and I are continuously making songs and producing work.
What advice would you give to anyone just starting out in music?
Be yourself when doing music. I know I've said to take what's in and make songs, but you don't blatantly copy styles and voices from other artists. Take the concepts that are out and put your own spin on it. Let people see your take on a particular concept through your voice and style.
Music is a sacrifice. You may not be paid or get a lot of air time in the beginning; but if you stay focused, someone will hear you and give you a break. I've been recording songs for 10 years now and I just got my voice heard last year. Sometimes that just how hard and long you have to work for it.
Also, never settle! Don't ever become complacent. If you do, you'll die and never be as great as you could have been. Music is a never ending journey. Don't let popularity go to your head and stop you from working and improving your talent. Embrace popularity and enjoy it; but keep in mind that the work isn't finished yet.
One last thing, where do you see yourself in 5 years?
I am determined to become established. In the next 5 years I see myself out there – around the world touring and having enough resources to help upcoming artists and contribute to the development of music in Belize. I see myself secured and able to effortlessly support myself and family with music. Like I said, established.
From his breakout hit last year, "She Want Di Wuk", Andidre has continuously put out hit after hit on the Dancehall charts. I'm sure we can look forward to hearing a whole lot more from him in the future. To see more from Andidre and the Father&Son team, visit their facebook page or www.andidre.com.