Settlement in Belize
The Garifuna culture is one of the smallest in Belize, consisting of only 4% of the country's population. The Garinagu people landed in Belize on November 19th, 1802 as they fled slave masters in St. Vincent. According to the Belize National Garifuna Council, there are about 500,000 Garinagu people worldwide with only 15,000 left in Belize.
The words Garifuna and Garinagu are often used interchangeably but their meanings are different. The term Garifuna is used when talking about the culture while Garinagu is the proper name for the Garifuna people. The word Garifuna means "Cassava eating people".
Yurumei
To commemorate Garifuna Settlement Day, a reenactment of the Yurumei takes place every year in Belize. The Yurumei refers to the arrival of the first Garifuna settlers in Belize. During the reenactment, you can see the Garinagu coming toward the shore in their canoes, dressed in their traditional linens, with their cassava in tow. They were welcomed ashore and granted permission to live in Belize by the Governor (who is now represented by a senior member of the City Council).
This reenactment and other ceremonies that take place on Garifuna Settlement Day serve as a reminder to the younger generation of the hardships, violence and struggles their ancestors endured to flee slavery and settle peacefully in Belize.
Traditions and Customs
The Garinagu settled mainly in Southern Belize is areas like Dangriga, Hopkins, Seine Beight, Punta Gorda and Barranco. They celebrate their Garifuna culture year-round with other traditions like dances, music and staple foods.
Some popular Garifuna dances are the HunguHungu, Chumba, Punta and Wanaragua or "John Canoe" (Jankunu).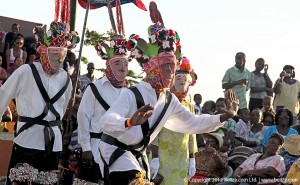 Their music is distinct because of the prominent bass from the Garifuna drums which are beaten by hand to a rhythm. Popular genres of Garifuna music are the Punta, Punta Rock and Paranda. Belize is home to talented artists, like Paul Nabor, Andy Palacio and Pen Cayetano, who made these genres very popular worldwide.
Hudut is one of the main Garifuna dishes and is very popular throughout the country. Hudut consists of sere, which is fish cooked in a coconut broth, along with mashed plantains.
The Garinagu strive to keep their waning culture alive by teaching the younger generation their language, passing on customary recipes and incorporating other traditions and ceremonies into everyday life.
Learn more about the Garifuna culture and traditions, here.
Some Outstanding Garifuna Artists
Ben Nicholas – Painter
Pen Cayetano – Painter & Punta Rock Artist
Austin Rodriguez – Drum maker
Paul Nabor – Parandero
Aurelio Martinez – Parandero
Lugua Centeno – Punta Artist
Andy Palacio – Punta Rock Artist