"My inspiration for music came from my father. He introduced me to Bob Marley and Dennis Brown, and I just fell in love with reggae from there on."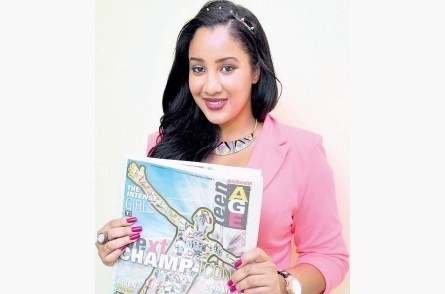 MOST would be surprised to know that these words were not said by a Jamaican artiste, but that of Belizean songstress Tanya Carter. She told teenAGE, for our Flexxing With that "Belize is very much in love with Jamaica, their culture and their music."
The Belize City native is currently making a splash locally with her Christopher Birch-produced single My Ex-Boyfriend.
Before testing the waters in Jamaica, Carter has become a household name in her homeland, winning a plethora of awards, including the "Best Female Vocalist of the Year" Award at the Belize Music Awards for the years 2010, 2011 and 2012.
"My breakout song was Hero. I wrote it about my parents at a time when I wanted to quit music, because I felt I wasn't getting anywhere. It became a real huge success to the point I was opening up for Etana, Luciano, and Morgan Heritage because of it," said Carter.
Her follow-up hit was the patriotic, I Am Belize. The song would go on to be a promotional favourite to use by the Belizean government that commissioned a songwriting contest, in which it won.
Carter would further represent Belize in a series of concerts throughout Mexico, in a cultural exchange between the nations where Belizean artistes would perform at Mexican music festivals.
Speaking on her reasons for visiting Jamaica, she elaborated that, "I came here to get to know this warm place, to find out the culture, and to get more familiar with reggae. I wanted to get a feel of what Bob Marley and Dennis Brown are talking about, when they sang about Jamaica."
It was also during Carter's initial visit to the island in January that she teamed up with Jamaican music stalwart producer Birch, the co-writer and man behind the boards for Ex-boyfriend.
"I wrote the song with someone in mind, and also it comes from the personal experiences of other persons that I talk to. Everybody has that one ex-boyfriend that they can't get enough of, but eventually have to leave," said Carter in describing the track.
Listeners can look out for another Birch produced single entitled Secret, which was written by reggae artiste Duane Stephenson. In addition, the Belizean artiste will be trying her hand at dancehall releases this summer.
Writer — Dominic Bell
Photo Courtesy NAPHTALI JUNIOR and The Jamaica Observer
Source:  The Jamaica Observer