One of the more easily accessible Mayan ruins from Belize City, Altun Ha is a small site featuring two large central plazas surrounded by midsized pyramids. Only a few of the most impressive structures have been uncovered while many more are still covered by the jungle vegetation.
"Altun Ha" is a recent name, coined by translating the name of the nearby village of Rockstone Pond in Yucatan Maya . The ancient name is unknown.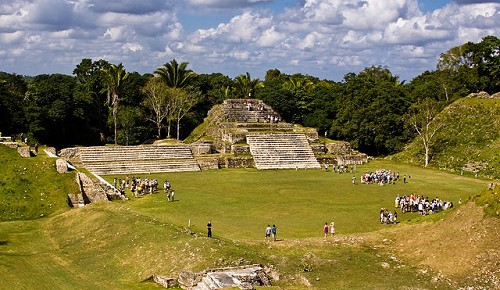 History of Altun Ha
Altun Ha was settled around 200 BC until the 10th century AD. At its peak in the 3rd century AD, as many as 10,000 people may have lived here. The city was a major trading center and a large amount of jade and obsidian were found at the site, both of which do not occur naturally in Belize. The presence of jade also suggest that Altun Ha was a religious center as jade could only be worn or used by Mayans of great importance, such as religious leaders.
About 900 AD several elite tombs were looted, which some think indicates a revolt against Altun Ha's rulers. The site remained populated for about another century but no new major structures were built during that time. After this the population dwindled, with a moderate surge of reoccupation in the 12th century before declining again to a small agricultural village.
Altun Ha Highlights
Situated at Plaza B, the largest (though not the tallest) temple here is the Temple of the Masonry Altars. The temple was expanded many times with a new temple, complete with altar, built around the last one. No fewer than seven tombs have been found here, the oldest of which contained a magnificent carved head of the Maya sun god Kinich Ahau. The 10lb/4.5kg jade head is considered one of the national treasures of Belize and is locked away in a bank vault in Belize City. A replica of the head can be seen in the Museum of Belize.
The unrestored Temple A-6 is truly the tallest building at Altun Ha. It is now a large grass covered mount with a few remains of the stairs in the center on the lower south side. A climb to the top of the temple provides an excellent view of the entire site.
Source:  Maya Ruins – The Ultimate Guide