Belize is a melting pot of cultures. As such, its bubbling with hints of varied cuisines from all over the world. You can find influences from America, Europe, India, China and other Central and Latin American countries.
These influences are what makes Belizean food so delectable. Visitors fall in love with local favorites like the tamales, chimole, hudut, roti, and of course the famous rice and beans. Tourists flock to Belize every year to get a closer look at the diverse cultures that make up this country through its food.
Get a taste of the delicious Belizean food with these recipes.
Belize Rice and Beans
Rice and Beans is the staple in Belize. You can find this dish selling almost everywhere in the country and its always served the same way- white rice mixed with red kidney beans, stewed chicken, potato salad and fried ripe plantain.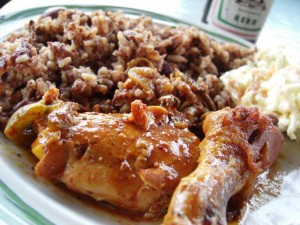 Ingredients
1 lb. red kidney beans
2 plugs of garlic (crushed)
1 tsp. salt
1 cup coconut milk
1/2 tsp. black pepper
1/2 tsp. thyme
2 lbs. cleaned white rice
1 medium onion (sliced)
6 – 8 cups of water
1 small pigtail/ salt beef/pieces of bacon (optional)
Method
Wash the beans and soak for 4 hours in 6 – 8 cups of water. If using distilled water, the beans will only need to be soaked 2 hours to soften.
Boil beans with garlic, onion and pig tail/salt beef/ bacon until tender. Note: If you use pig tail or salt beef, you need  to wash the meat and cut off excess fat. You can opt to use a pressure cooker to cut down on cook time.
Season beans with black pepper, thyme and sale.
Add coconut milk then stir and let boil.
Add rice to seasoned beans then stir and cover the pot.
Cook on low heat until the water is absorbed and the rice is tender. If necessary, you can add more water until the rice is tender. Note: Normally, one cup of rice absorbs 2 cups of water.
Tamales
Tamales is a Mayan dish that made from boiled meat, normally chicken or pork, that is placed atop a soft corn dough called masa which is then covered with a tomato based sauce called "col", wrapped in plantain or banana leaves and finally boiled .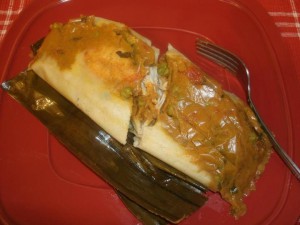 Recipe yields 12 tamales.
Ingredients
Plantain or banana leaves
1/2 tsp. black pepper
1/4 tsp. annatto
1 tsp. chicken bouillon
1 medium onion (chopped)
1 clove garlic (crushed)
1 tbsp. oil
2 lbs. masa
3/4 cups oil
2-4 cups water
12 pieces of cooked chicken
Method to make the col:
In a medium pot, mix the salt, pepper, annatto, bouillon, onion, garlic and 1 tbsp. oil.
Add 1/2 lb. masa and 1 cup of water then bring to a boil, stirring consistently.
Remove from flame when the sauce is at the boiling point and set aside.
Method to make the tamales masa base:
Mix 1.5 lbs. masa with 3/4 cups oil adding water until the consistency is soft like clay.
Form dough into 12 balls.
Place each ball on a piece of banana or plantain leaf then flatten ball into a tortilla shape.
Add one piece of chicken to the center of each open tamale and top with about 1 tsp. of col.
Close the tamale by folding over each side like an envelope, then wrap foil tightly over the enclosed tamale to secure the contents in the leaf while boiling.
Add tamales into a pot with some water and boil for about an hour. Do not cover completely cover the pot with tamales while boiling.
One they finished boiling, let cool a bit then enjoy.