In Belize, Denise Castillo has become a household name. She is a blooming songstress with hits like "Nah let Go" and "I Remain". Denise began singing at the age of 16 in high school talent shows and the Festival of Arts and her passion for music just continued to develop. On July 18 she took the time out to tell MyBelize.Net a little about herself; here's what she had to share.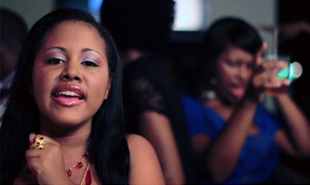 Denise: I'm inspired a lot by my fans and supporters, including my family. The realization that there are people who genuinely enjoy my music and can relate to it motivates me to continue doing more. For that, I am truly grateful.
MyBelize.net: As a rising reggae artist in Belize, have you been faced with any challenges in the music industry as yet?
I've faced several as I continue to grow as an artist. The main challenge right now is funding for recording my music, making videos and other necessities for performances and promotions. I have a fulltime day-job, and usually the finances come straight from my own pockets; which leads to the underlying issue that there aren't many opportunities in our own country to call music a job.
Do you write your own songs?
I do write my own songs, but I've collaborate with other artists like Tanya Carter and Andidre as well.
Who are your favorite singers?
There are so many artists I've come to favor over the years like Celine Dion, Luther Vandross, Alicia Keys, Bob Marley, Lucky Dube and Alaine to name a few.
I personally listen to various genres of music but mostly enjoy reggae and dancehall music which are the two genres I've explored as an artist. I plan to venture into other styles of music but at the same time incorporate my reggae style in them.
Your fans are in love with your songs. So are you working on any projects we can look forward to in the future?
You can definitely expect more projects from me throughout the year especially with my fellow Belizean artists. I am currently working on some new music and have several performances coming up locally and internationally. I'm also planning on doing an album soon.
Do you have any loves other than music?
I've found a deep interest in hosting now as I have a show I do every Saturday on wave TV along with DJ Dalla called the Wave Top Ten Show which I've really grown to love. I'm still young in it, but it enables me to be more confident and brave.
Lastly, where do you see yourself in the next 5 years?
Five years from now I'm hoping to still be building my name in music, not only locally, but internationally. I hope to help in the growth of our new upcoming music industry in our country and inspire those undiscovered talents in our jewel – Belize.
We're anxious to see what else Denise has in store for us. Until then we'll continue enjoying her released hits and supporting her in her blooming career. To see more from Denise Castillo visit her Facebook Page or see her stream on SoundCloud.