Xunantunich is a well excavated and easily accessible Mayan site, close to San Ignacio in Belize. The Mayan ruins of Xunantunich are located atop a limestone ridge above the Mopan River, within sight of the Guatemala border. The central area is laid around three plazas surrounded by more than 20 structures.
It name means "Stone Woman" in the Maya language and, like many names given to Maya archaeological sites, is a modern name. It refers to the ghost of a woman claimed by several people to inhabit the site. The ancient name is unknown.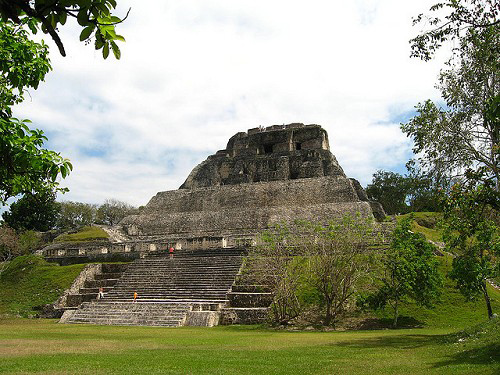 Photo credit: perisho
History of Xunantunich
Xunantunich was a thriving Mayan city from about 600 to 900 AD. Evidence indicates that during the 10th century AD there was a disruption at Xunantunich, possible an earthquake, and the city and much of its sustaining hinterland was soon abandoned. The site was reoccupied centuries later while the structures were already in ruins.
Xunantunich Mayan Ruins Highlights
At 127 feet (39 m) the pyramid known as El Castillo is the second tallest structure in Belize, after the temple at Caracol. It's a steep climb but the view from the top is worth it. The structure was probably built in three stages between the 7th and 9th century. At one time its frieze, a banded stucco decoration, extended around the entire pyramid. Today only a small part of the frieze remains which displays masks of the sun god flanked by signs of the moon, Venus and different days.
Read more about Xunantunich at MayanRuins.info