This past weekend was the annual Crooked Tree Cashew Festival where everything "cashew" was celebrated. The event took place at the field in Crooked tree with displays of cashew wine, nuts, stews, jams and other delicacies were on sale. Keeping in the celebration of the cashew season, we're sharing our favorite stew cashew recipe.
Stew Cashew
Ingredients
10 ripe cashews
Juice of 1 lime
1 quart of water for boiling
1.5 cups of water for stewing
1 cup sugar
Directions
Remove nuts from the top of the cashews.
Use a pairing knife to cut about 1/2 inch off the top of the cashew where the nut was removed to ensure all remnants of the nut has been discarded.
With a vegetable peeler, remove the skin from the cashews then perforate the flesh with a toothpick.
Put the 1 quart of water in saucepan and bring to a boil then add the lime juice and cashews.
Cook on high heat for 10 minutes. After, remove from heat, drain and reserve.
In a medium saucepan, combine the 1.5 cups of water with the sugar over medium-high heat, stirring to dissolve sugar.
When simmering, add cashews and reduce heat to low.
Partially cover the pan and let fruits cook for 1 hour or until the cashews are soft and the syrup is slightly thickened.
Remove from heat and let fruits cool in syrup.
Serve room temperature or chilled.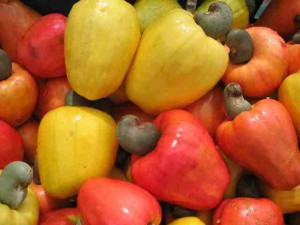 What cashew recipes do you like?